Weddings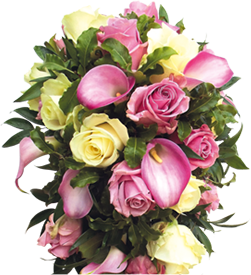 Taking into consideration the influences & styles of your bridal gown, bridesmaids dresses, page boys & grooms outfits, your venues & any themes running through your wedding preparations Kaye will suggest ideas & designs to suit both your expectations & your budget. You can be assured of the highest standard of floristry & quality of floral materials & sundries. Kaye has a wide range of glassware vases, mirrors, tea light holders, birdcages, candelabras & pedestal stands available to hire to make the perfect staging for your chosen designs but is also happy to make use of your own containers.
VIEW PRICES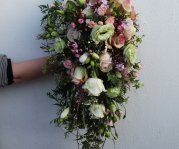 Bridal Shower Bouquets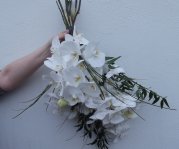 Bridal Overarm Bouquets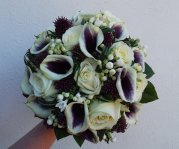 Bridal Hand Tied Posy's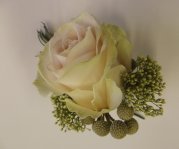 Buttonholes & Buttonieres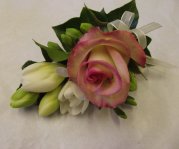 Corsages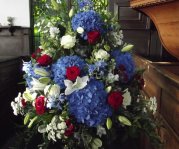 Pedestals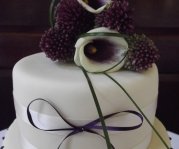 Table Centres & Venue Decor
Weddings Prices
This is a guideline only, Individual quotes forwarded after consultation appointment.
BRIDAL BOUQUETS
Formal Shower from £140.00
Handtied Overarm/Linear from £135.00
Handtied Posy from; £130.00

BRIDESMAIDS BOUQUETS
Handspray from £90.00
Formal Posy (Adult) from £85.00. & (Child) from £75.00
Handtied Posy or Linear Handtied (Adult) from £80.00. & (Child) from £65.00
Pomander or Hoop (Child) from £55.00
Basket or Wand from £35.00

HEADRESSES
Combs from £25.00
Individually Wired Heads (Per Set) from £20.00
Alice Band from; £40.00
Circlet from £60.00

BUTTONHOLES
Gents from £7.50
Ladies from £8.00
Gents Buttonieres from £8.50
Ladies Corsages from £12.50

ARRANGEMENTS
(Church/Venue) Pedestals from £175.00
Windowsills from £70.00
Flower Pew Ends from £45.00
Single Flower & Ribbon Pew ends from £15.00
Ribbon Pew Ends from £10.00
Font from £95.00
(Reception) Table Centre from £15.00-£95.00
Top Table from £40.00, £60.00, £80.00
Foliage & Ribbon Garlanding (For Top and Cake Tables) from £110.00
Freestanding Topiary Trees from £ 175.00
Cake Tops from £20.00
Place Name Flowers from £5.00
Scattered Rose Petals from £40.00
Aquawrapped Handtied Thank You Bouquets from £35.00
Delivery Charges available on request.
All prices are inclusive of V.A.T. @ 20%
Prices valid from 1st June 2019.

Just to say a massive thank you for our beautiful flowers for our wedding; they were absolutely stunning and we feel so honoured to have had you as our florist. We had so many guests come up to us to say how wonderful all the flowers were and our family managed to take a lot of them home which was lovely.
Mr. & Mrs. 'B' 26th March 2016 Woodhall Manor
Just a note to say a big thank you for our gorgeous wedding flowers. You can see from the photo's here how amazing they looked on the day!
Mr. & Mrs. 'G' 10th December 2015 Hengrave Hall
The floral decorations on the tables were simply gorgeous. We were delighted and thank you so much for all your effort especially delivering them in the morning and placing them in situ. Everyone commented how lovely the flowers were and asked who had arranged them. We had a most memorable day with family and friends and Hintlesham Hall excelled.
Mr. & Mrs. 'R's Golden Wedding Anniversary
I just wanted to say a big thank you for the flowers that you did for our wedding, we loved them and all of our guests did too. My sister loved her flowers that you kindly delivered today and so did Mary [the vicar who married us]. They are both pleased as punch with their pretty bouquets. We took my bouquet and one of arrangements from Jimmy's to St Elizabeth Hospice for people to enjoy them. We have just had a lovely message on Facebook from someone who has a relative at the Hospice saying how beautiful the flowers are. So, our work is done.
Mr. & Mrs. 'R' 24th October 2015 Jimmy's Farm
I just wanted to send a thank you card to say how much I appreciated the beautiful flowers at our wedding. My Bouquet was exactly what I hoped for – utterly gorgeous! You arranged the centre pieces and vases to look perfect and exactly what I envisaged in my mind. Thank you so much. You are very talented.
Mr. & Mrs. 'G' 25th September 2015 Hintlesham Hall Hotel
I would just like to thank you very much for all your hard work with my wedding flowers. I was so pleased with everything overall. It was perfect. We appreciated all the running around you had to do on the day behind the scenes. We had a lovely day and couldn't have asked for more.
Mr. & Mrs. 'W' 19th September 2015. 'The Hangar' Kesgrave Hall
Just wanted to say thank you for all your help with our beautiful wedding flowers. From meeting you at the Wedding fayre to having the flowers delivered on the morning, you have always been so helpful & friendly. Our flowers all looked stunning and we had lots of lovely comments from our guests. We can't recommend you enough to future Brides & Grooms.
Mr. & Mrs. 'H' 5th September 2015. Thorpness Country Club
Thank you so much for your lovely floral arrangements for our recent wedding and your help throughout the process. We truly had the best day of our lives. We had so many compliments about our table decorations and we owe it all to you. Thank you for everything.
Mr. & Mrs. 'S'. 30th August 2015 Woodhall Manor
We would like all like to say a really big thank you for the beautiful flowers & bouquets you made for our wedding. They were stunning and the colours were perfect. We look forward to doing business with you again in the future and will be highly recommending you to all family & friends.
Mr. & Mrs. 'L' 1st August 2015 Wherstead Park
Thank you so much for the flowers and arrangements you created for our wedding day. They were truly beautiful and complimented everything else about the day. Thank you for being so kind & helpful. Nothing was too much trouble and you made it all so easy and enjoyable for us. We cannot thank you enough, the bridal bouquet was perfect!
Mr. & Mrs. 'S' 1st August 2015 Private Marquee Stutton
Thank you so much for doing my amazing flowers! They really were beautiful & I really couldn't have been happier with them or the entire service, Thank you!
Mr. & Mrs. 'R' 29th July 2015 Haughley Park Barns
Thank you so very much for creating our absolutely stunning wedding flowers, they were even more amazing than we ever hoped. My bridal bouquet was breath taking; I wanted it to last forever and keep looking at the photos in amazement at what you created. All the corsages and arrangements were equally as beautiful, we can't thank you enough. You are an incredibly talented lady and it was an honour to meet you. Thank you a zillion times.
Mr. & Mrs. 'B' 2nd July 2015 Hengrave Hall
We would just like to say a very big THANK YOU!! For the absolutely stunning flowers you created us for our wedding day. They were truly beautiful and we received so many compliments. Thank you for being so kind, friendly & professional from start to finish.
Mr. & Mrs 'B' 27th June 2015 Otley Hall
Just wanted to say a massive thank you for the flowers you did, they were absolutely beautiful! We had so many compliments on the room scheme & flowers , with people saying how stunning the flowers and decorations looked, so thank you.
Mr. & Mrs. 'S' 26th June 2015 Woodhall Manor
Thank you so much for arranging our beautiful flowers on our wedding day. It was so lovely to be able to share our 'Journey of the flowers' with someone so local. The bouquet & posy were beautiful; the mum's corsages looked fabulous on them, and all the roses lasted for ages... Thank you so much once again.
Mr. & Mrs. 'T' 25th May 2015. 'The Hangar' Kesgrave Hall
The flowers were all absolutely beautiful and we can't thank you enough for all your help.
Mr. & Mrs. 'B' 23rd May 2015. Seckford Hall Hotel
Hugh thank-you's for the absolutely stunning flowers for 'E' & 'S's wedding! They were gorgeous – colours and mixtures absolutely right – and wonderful combinations. Bouquets, arrangements and table flowers were all beautiful and the flowers & bouquets lasted so well – even a couple of days later the flowers are fresh and lovely. Thank you for all your skill, care, enthusiasm and efficiency. 'E' & 'S' and all of us had a wonderful, truly happy and memorable day and we thank you so much for the part you played in making it so special.
Mr. & Mrs. 'S' 25th April 2015. Haughley Park Barns
We just wanted to send a little thank you for the wonderful job you did with our wedding flowers. All of the arrangements you put together, including the family thank you flowers, were just beautiful & exactly what we envisaged for our magical day.
Mr. & Mrs. 'J' 7th April 2015 Woodhall Manor
Thank you so much for our beautiful flowers for our wedding, they really were just gorgeous. They set the venue off beautifully; we had lots of comments on the bike!!! I've enclosed a photo of us on the bike the next day with the flowers still on it. Mums house smelt amazing with the pedestal flowers in.
Mr. & Mrs. 'M' 4th April 2015 Hungarian Hall
Thank you so much for our beautiful wedding flowers. They exceeded all expectations and really gave our day the wow factor! I have thoroughly enjoyed meeting with you, you've made a very important part of our wedding incredibly easy and enjoyable. You're so professional and extremely good at what you do!
Mr. & Mrs. 'C' 30th August 2014 Barranadov Barn, Needham Market
Just a little note to say a huge thank you for the most beautiful flowers for 'S's wedding. They were absolutely spectacular and as you saw 'S' was so moved when she saw the bouquets and how perfectly you understood exactly what she dreamed they would look like. Everyone at the wedding remarked on how lovely the flowers were in the Marquee.
Mr. & Mrs. 'K' 8th August 2014 Le Talbooth Dedham
Thank you so much for making our day so special. We loved the flowers; they were exactly what we wanted. We wish you continued success.
Mr. & Mrs. 'R' August 2014 Helmingham Hall
Your service was outstanding & the flowers stunning. Thank you for all your advice with our wedding arrangements & the beautiful table centre pieces, bouquets, buttonholes & table planner. We couldn't have done it without you – thanks for being so attentive, reliable & willing to make it just as special as we wished.
Mr. & Mrs. 'S' 12th July 2014 Waldringfield Golf Club
The flowers looked incredible and even more beautiful than I imagined and we got so many compliments on them. We took the two big displays to St. Elizabeth Hospice today to be enjoyed by the staff & patients there.
Mr. & Mrs. 'M' 7th June 2014 Hintlesham Golf Club
Thank you for all your efforts you put into our wedding day to create the most amazing flowers. You truly transformed the Barn and gave it even more of a wow factor! My bouquet was gorgeous & everyone involved loved holding/wearing their flowers.
Mr. & Mrs. 'M' 24th May 2014 Smeetham Hall Barn
Thank you for supplying our very beautiful flowers for our wedding. Everybody commented on them and they exceeded my expectations! It was lovely to come home to a replica of my bridal bouquet too as I didn't have time to appreciate them.
Mr. & Mrs. 'S' 10th May 2014 Hengrave Hall.