Sympathy Tributes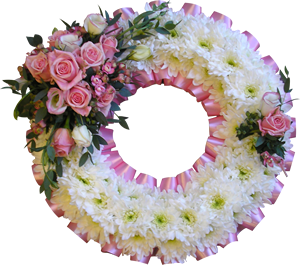 You may wish to choose from the gallery & order by telephone or email; alternatively you may wish to contact Kaye to arrange an appointment at her workshop/office to discuss your requirements further. This is also an opportunity to choose a suitable card & write a personal message. Kaye understands that this can be a difficult time and offers total discretion and professionalism. You will never be rushed in to making decisions.
VIEW PRICES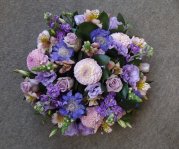 Loose Posy's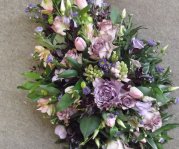 Loose Single Ended Sprays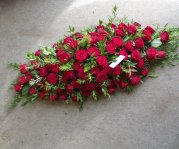 Loose Double Ended Sprays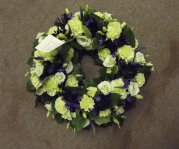 Loose Wreaths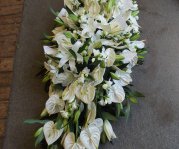 Coffin Sprays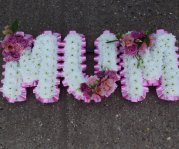 Names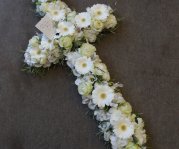 Based Crosses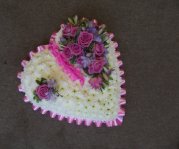 Based Hearts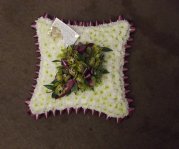 Based Cushions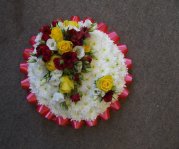 Based Posy's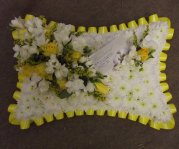 Based Pillows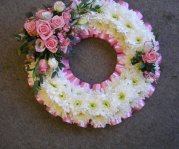 Based Wreaths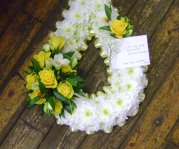 Based Chaplets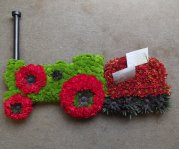 Freestyle Design
Sympathy Prices
This is a guideline only; individual quotes are dependent on flowers chosen.
POSYS
From £35.00, £45.00, £60.00 each.
SINGLE-ENDED SPRAYS
From £40.00, £50.00, £60.00 each
DOUBLE-ENDED SPRAYS
From £75.00, £100.00, £125.00 each.
WREATHS
From £35.00 (10"), £45.00 (12"), £65.00 (14"), £85.00 (16") each
COFFIN SPRAYS
From £175.00 (3ft), £225.00 (4ft), £275.00 (5ft), £325.00 (6ft), £450.00 (7ft & trailing) each
NAMES
From £55.00 per letter. (i.e. NAN DAD MUM GRAN etc)
CROSS TRIBUTES
From £50.00 (2ft), £75.00 (3ft), £100.00 (4ft), £150.00 (5ft) Based or Loose Style
HEART/CUSHION TRIBUTES
From £65.00 (13"), £95.00 (17") each Based or Loose Style
BASED POSY TRIBUTES
From £40.00 (6"), £60.00 (9"), £80.00 (12") each
PILLOW TRIBUTES
From £95.00 each. (One size only 17") Based or Loose Style
FREESTYLE TRIBUTES
From £200.00 each. (3D Teddy Bear, Motor Bike, Football etc)
Delivery Charges available on request.
All prices are inclusive of V.A.T. @ 20%.
Prices valid from 1st January 2022.
Prices DO NOT include any additional BREXIT Agreement tariff charges on the import of fresh goods.

Thank you so much for the lovely floral tributes you did for me and all of my family for our precious Mum and Grandma… and for the wonderful table decoration I collected from you, for the photo table, the previous day. They are all so gorgeous and so full of flowers... The Gates of Heaven, you made for me, was by far the most gorgeous arrangement I've seen. The one I had for my Step-dad, 9 Years ago [before I knew you] was nothing compared to how beautiful you made this for Mum. I cannot thank you enough! Mum had several tributes, by other florists, however, I know I'm biased, but yours were by far the best. I have the table arrangement on my dining room table, and I have to say, each time I look at it, it seems more gorgeous then the time before. I look forward to seeing you again, in the not too distant future, to finalise 'H' & 'R's wedding flowers, which I know are going to be just stunning, if Mum's flowers are anything to go by.
Thursday 10th March 2016
I just wanted to say an enormous thank you for the beautiful floral tributes that you created for my Father's funeral... the day went very well and everything was perfect including the flowers.
Thursday 23rd July 2015
Just wanted to say thank you so very much for the beautiful flowers you did for J's Grandma. The colours were stunning and I thought it looked amazing.
Monday 2nd February 2015
Thank you very much for the photos, flowers and kind wishes. The day went well and it was good to have all the family together as we are so small and far flung. My Aunt was very happy to take the table arrangement so I'm glad I had that after thought. Your interpretation of my thoughts for foliage was perfect and it felt just right for my Dad. My Brother's and I have what we call 'the test' which means meeting what we think are our Aunt's standards and the fact that she liked it meant it was really a success!
Wednesday 19th November 2014
I am just writing to say how pleased my Mum and I were with the flowers for my Father's funeral. They were exactly what we were looking for and all three arrangements represented everything we wanted to say. Being able to visit you in your workshop to discuss our requirements in such a pleasant environment also helped make a sad occasion easier to deal with. Our heartfelt thanks.
Tuesday 24th June 2014
Thank you so much for the lovely sympathy flowers, they were perfect and looked the best there.
Friday 17th January 2014