Functions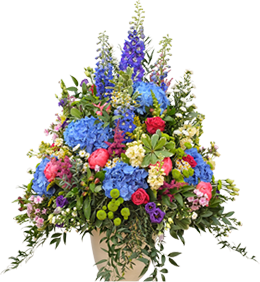 Kaye offers consultation appointments in her workshop/office at which you can view her portfolio & discuss at length your requirements for your special event. Appointments are available Monday-Friday daytimes at 11.30am or 1.30pm, Monday, Wednesday & Friday evenings at 7pm, Thursday evenings at 6.30pm, 7.00pm, 7.30pm or 8.00pm. Also Saturday afternoons once the Weddings & events are set up for the day.

The flowers looked incredible and even more beautiful than I imagined and we got so many compliments on them. We took the two big displays to St. Elizabeth Hospice today to be enjoyed by the staff & patients there.
Mr. & Mrs. 'M' 7th June 2014 Hintlesham Golf Club
Thank you very much for the photos, flowers and kind wishes. The day went well and it was good to have all the family together as we are so small and far flung. My Aunt was very happy to take the table arrangement so I'm glad I had that after thought. Your interpretation of my thoughts for foliage was perfect and it felt just right for my Dad. My Brother's and I have what we call 'the test' which means meeting what we think are our Aunt's standards and the fact that she liked it meant it was really a success!
Wednesday 19th November 2014
Read More Kind Words