A Little Bit About Kaye Souter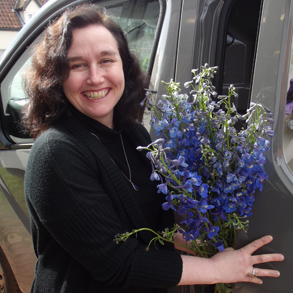 Kaye Souter
NDSF. FSF.
Based in a commercial workshop in the village location of Rushmere St. Andrew on the outskirts of Ipswich Suffolk, just 10 minutes from both Ipswich & Woodbridge. Kaye delivers gift work & funeral tributes locally daily as well as travelling all over Suffolk & bordering counties to hand deliver & set up for wedding ceremonies & receptions. Kaye has accumulated a wealth of knowledge of many Churches & Venues which she decorates regularly & is always keen to add to her portfolio with new locations.
Flowers For Your Special Day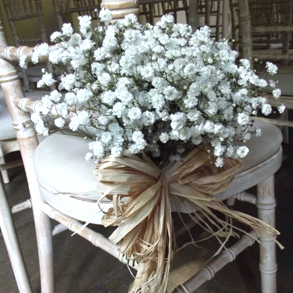 Taking into consideration the influences and styles of your Bridal gown, Bridesmaids, Page boys and Grooms outfits and also your venues and any other themes running through your wedding preparations, Kaye will suggest ideas and designs to suit both your expectations and your budget - whatever the size of your wedding. You can be assured of the highest standard of floristry and quality of floral materials and sundries.
VIEW PRICES
VIEW GALLERY

Thank you so much for making our day so special. We loved the flowers; they were exactly what we wanted. We wish you continued success.
Mr. & Mrs. 'R' August 2014 Helmingham Hall
Thank you so much for the lovely floral tributes you did for me and all of my family for our precious Mum and Grandma… and for the wonderful table decoration I collected from you, for the photo table, the previous day. They are all so gorgeous and so full of flowers... The Gates of Heaven, you made for me, was by far the most gorgeous arrangement I've seen. The one I had for my Step-dad, 9 Years ago [before I knew you] was nothing compared to how beautiful you made this for Mum. I cannot thank you enough! Mum had several tributes, by other florists, however, I know I'm biased, but yours were by far the best. I have the table arrangement on my dining room table, and I have to say, each time I look at it, it seems more gorgeous then the time before. I look forward to seeing you again, in the not too distant future, to finalise 'H' & 'R's wedding flowers, which I know are going to be just stunning, if Mum's flowers are anything to go by.
Thursday 10th March 2016
Read More Kind Words